Title: Automatic safety climbing rope sewing machine (bartacking)
Update Time 2019-04-18 12:02 Views
Heavy duty Bar-tacking can be widely seen reinforcing Kernmantle ropes, static climbing ropes, dynamic climbing ropes, rope lanyards, slings & cords, safety harnesses and military gear, with strong and uniform stitch. Because most of the rope end bar tacking is used on is critical to survival, it is important to find the right bar tacking sewing equipment that can create extra safety and durability on the seam.
Today extremely heavy weight materials and thick sewing threads are used in the production of braided and twisted synthetic ropes made by Nylon, Polypropylene, Polyethylene and Polyester, for arborist rope, climbing/caving ropes, boat rope & marine rope, rescue ropes, rigging ropes, custom cordage and braided rope.
Over the years Hightex developed full range of computerized ropes sewing machines that optimize bar tacking to be consistent and of high strength and quality. Sewn terminations on ropes and cords are stronger than knots because rope-on-rope friction is eliminated along with the bending of the fibers.

All HIGHTEX heavy duty automatic pattern sewing machines and bar tacking machines will be thoroughly tested and gone over by Mingyuan Industrial Sewing Application Center.
Our field engineers configure these sewing automation equipment properly for customer sewing requirements. This includes building all the necessary clamping, jigging and fixturing to accomplish the sewing task, testing and checking all pneumatic, electrical, and computer systems for proper operation, programming the machine with all patterns supplied by the customers, and then testing the machine on samples that match exact customer specifications.
These operations save the end user many thousands of dollars in extra expense, eliminating the need for outsourcing the work required to get the machine in operating condition.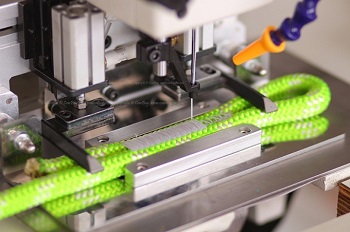 71008R The best selling heavy duty automatic rope sewing machine
Heavy duty rope end bar-tacking machine for manufacturing climbing ropes, safety ropes, harness, sterling ropes, cord, industrial ropes, climbing gear, mooring rope, rigging rope and other fiber ropes. It is capable of stitching 2 ropes together with each of 6-18 mm(diameter).
It is the best sale programmable rope stitching machine that you can worldwide rope manufacturers in United States, Canada, Germany, France, Italy, Spain, Netherlands, Belgium, Belarus, Russia, Turkey, Australia, New Zealand, South Africa, Argentina, Brazil, Chile, Mexico and Peru.
Click here for video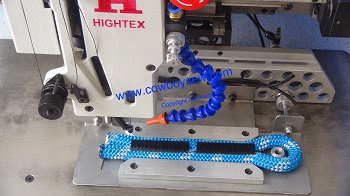 72008R Computerized rope stitching machine with longer bar tacking seam
Extra heavy duty computerized rope sewing machine with large shuttle hook and bobbin capacity, to form reinforced stitched loops (sewn eyes). Same to 71008R but can make long bar tacking seam upto 300mm. This automatic rope sewing machine is custom made for the military ropes manufacturers in United States and South Africa.
Click here for video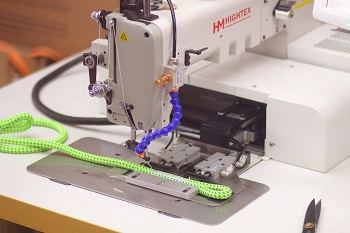 7273PLK/R Best affordable automatic rope sewing machine
Why choose HighTex 7273PLK/R rope stitching machine:
1.The lowest cost heavy duty programmable bar tacking sewing machine for climbing ropes available on the market today;
2. High sewing speed is up to 400 rpm;
3. Can easily stitch 2 ropes with each of 6-22 mm(diameter);
4. Using very thick sewing thread up to #7, V415, T-400, 1300dx3;
5. Completely assembled, tested, pre-programmed and serviced, reay to operate out of box.
Video for sewing safety rope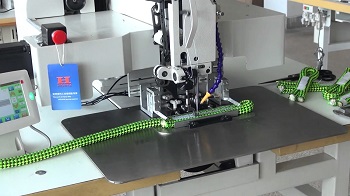 733PLC/R Heaviest automatic safety ropes sewing machine for sewn eye terminations
Design for stitching safety ropes from 10 to 28mm or 20mm thick Dyneema, Spectra, UHMWPE Rope, including offshore Ropes, mooring rope, tow ropes sewing machine and other marine ropes.
The special extra large shuttle hook and bobbin capacity offers high efficiency in sewing products using extra thick thread and has a thread rating up-to Metric size #4, V693, 2000dx3.
Click here for video