Title: Leather sewing machine for saddlery and leatherwork
Update Time 2019-04-18 12:05 Views
CowBoy leather sewing machines, leather cutting machines & leather crafting tools are widely used by American and Australian saddle makers, harness makers and handmade leather workshop.

Cowboy leather sewing machines are available in flat bed, post bed, feed-up-the arm, long arm, cylinder arm models, covering all types of industrial sewing operations. These leather sewing machines come with a full array of sewing attachments designed by saddle makers and leather crafter who has over 40 years of saddle making experience.

CowBoy leather sewing machines and leather crafting tools have been in selling in United States, Australia, Canada, Germany, France, Italy, UK, Spain, Ukraine, Russia and South Africa since 2000. Our strong point is to realize customized solutions and we are able to offer the most suitable products for the highest possible productivity and seam quality.
OUTLAW Hand Stitcher Leather Sewing Machine (US PATENT APPROVED): The Cowboy Outlaw hand operated leather stitcher is the finest machine of its type in the market today. Carrying on the legacy of fine hand craftsmanship that defined the American West, the Cowboy Outlaw hand stitcher has proven itself to be an indispensable tool to leather workers the world over. Each pull of the handle delivers a clean, precise lockstitch, allowing the operator total control of stitch placement. The Outlaw uses some of the heaviest thread available allowing the user to create finely handcrafted leather items of true distinction and character.
The Cowboy Outlaw hand stitcher makes sewing easy for the experienced craftsman, or the novice alike. It is an ideal machine for those looking for an alternative to tedious and time consuming hand stitching.
Click here for Demo video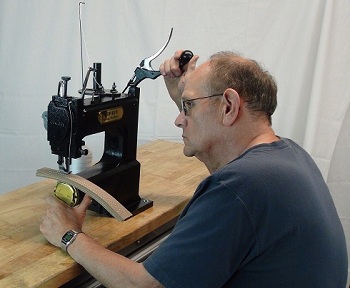 Cowboy CB3200 Heavy Leather Sewing Machine (US PATENT APPROVED): the lowest cost heavy-duty compound feed walking foot machine for sewing saddles and harness available on the market today. Cowboy CB3200 leather stitcher is capable of sewing up to 1/2" of saddle leather, with up to #415 bonded nylon or polyester thread, ideal for sewing belts, collars, tack, holsters, cases and saddle bags.
Click here for Demo video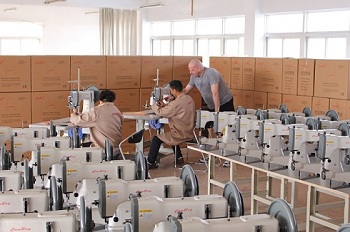 CowBoy CB3500 Heavy duty triple feed leather sewing machine for saddle maker and leather worker: the compact design is ideal for small leather workshop and Saddler's workshop; The extra powerful servo motor allows for one stitch at a time sewing by leather workers or anyone who needs stitch by stitch control for small items and turning corners; This leather stitching machine has over 20 special sewing attachments that meet most individual sewing requirements of saddle makers, harness makers and leather craftsmen.
Click here for Demo video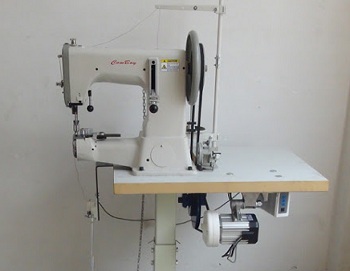 Cowboy CB4500 Heavy Duty Leather Sewing Machine for stitching saddle and harness: The Cowboy CB4500 is our number one selling heavy duty harness stitcher. This machine has become the standard in the saddle and harness industry. It has been widely used for stitching bullet loops, saddle skirts, headstalls, halters, breatstcollars, holsters, knife sheaths, chaps, knee pads, covered stirrups, gun belts, cases and other leather craft. The machine can also be used to stitch luggage, suitcases, heavy hand bags, heavy textile products, briefcases, and the like.
Click here for Demo video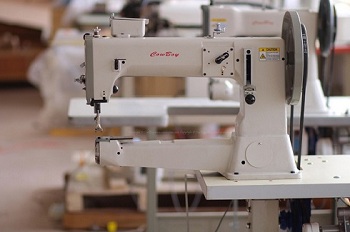 Cowboy 205-370 Premium heavy duty leather sewing machine for saddle makers, leather workers and manufacturers of harnesses (---sew saddles, harness and horse tack bettern than any other stitching machine built today): Based on a popular German design and German engineering, these machines are an excellent choice for those persons seeking a technologically advanced sewing machine for sewing leather, nylon webbing, heavy canvas, beta and biothane webbing, as well as various coated and laminated products.
Click here for Demo video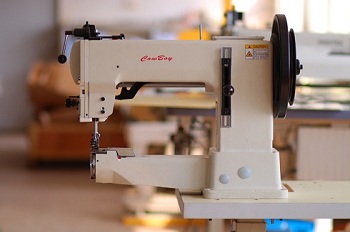 Cowboy CB105 Simple and cheap Leather Sewing Machine: this cheap leather sewing machine is ideal for stitching saddlery, leather and bioplastic harnesses and bridles, gun holsters, ammo pouches, gun belts, weight belts, nylon webbing tow ropes, animal collars and leashes. Very easy to use. This industrial leather stitcher is similar with Adler 105 and Singer 45K, but with reverse stitch.
Click here for Demo video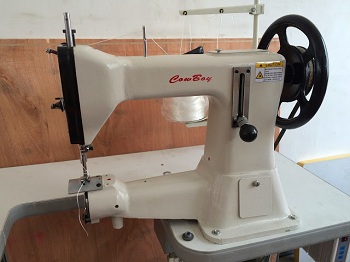 Cowboy CB341 medium weight walking foot cylinder arm sewing machine
The Cowboy CB341 is an ideal machine for lightweight and medium weight fabric and leather sewing projects, for example wallets, chaps, chinks, belts, billfolds, purses, handbags, automotive upholstery, marine vinyl and canvas, and other lightweight and medium weight projects.
Click here for Demo video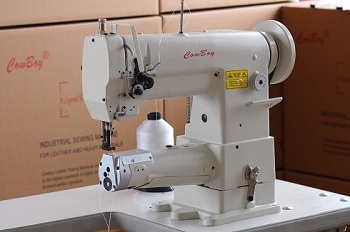 CB6900 Best sewing machine for leather handbags and purses
Medium to heavy duty cylinder bed compound feed leather sewing machine for handbags, shoes, belts, carpets, furniture upholstery and leather crafts. The newly developed mode of highly rigid rectangular feed guarantees outstanding feed performance. The ratio between the alternating vertical movements of the walking foot and presser foot remains unchanged even when the material thickness changes.
Click here for video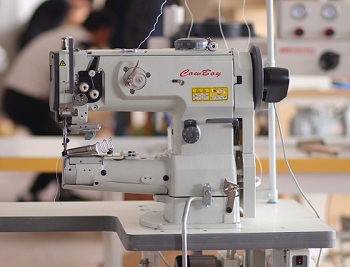 335 Cylinder-bed sewing machine for industry and leather crafts
Lockstitch, cylinder-bed leather sewing machine with unison feed. Designed for industry and leather crafts. General sewing and tape binding operations on footwear, bags and leather articles.
Click here for video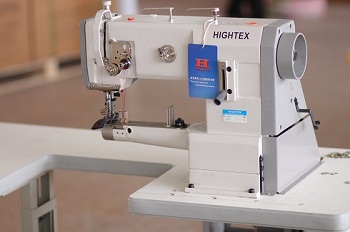 CB227R Medium weigth to heavy duty cylinder bed leather sewing machine
Cowboy industrial sewing machines are built to exacting standards and are capable of sewing real leather, as well as cloth, webbing, bioplastic and other materials.
Click here for Demo video