Title: Heavy duty lifting slings sewing machines (assembly)
Update Time 2022-11-27 10:31 Views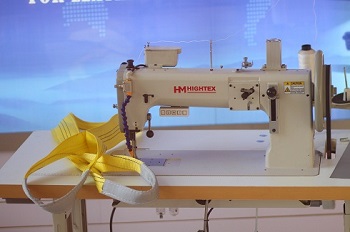 7243 The best value industrial sewing machine for the sewing production of heavy duty lifting slings
This universal heavy duty webbing sewing machine is able to produce single ply and up to 5 ply web slings featuring cordura wrapped eyes, edges, or complete sling body. This industrial slings sewing machine is able to produce bridle multi leg slings, eye & eye, endless, reverse eye, load balancer, wide body cargo slings, ratchet straps, cargo control straps, and much more.
Using very thick sewing thread up to Metric size #7, V415, 1300dX3, T-400.
Video for sewing eye slings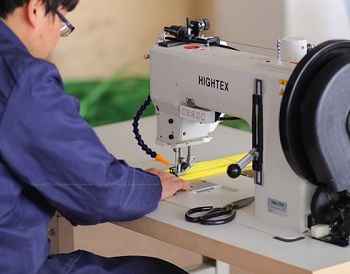 204-370CS The premium heavy duty
webbing slings sewing machine
One of the best heavy duty industrial sewing machine for webbing products, ideal for stitching 2-5 ply Nylon or Polyester slings in the production of heavy duty lifting slings, cargo lashing straps, safety harness and other synthetic webbing products. Using very strong sewing thread up to metric size
#7, V415, 1300dX3, T-400. This is the best selling lifting slings sewing machine in Europe and South Americas, included Argentina, Chile, Mexico, Colombia and Brazil.
Click here for video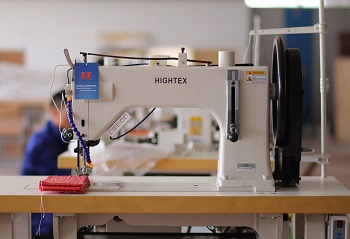 733 Super heavy duty lifting slings sewing machine
It is professional heavy sewing equipment for 6-8 ply textile slings with each of 3.5 mm, using extremely thick thread up to V554 (1800d X3 or metric size #5) and V693 (2000d X3 or metric size #4). Features in 32 mm presser foot lift, walking foot and the largest long-beak oscilating shuttle hook in today market. It can be used to stitch many heavy duty applications such as cargo lifting and lashings, safety harnesses, particularly for the Automotive, Aviation and Military Industries. This machine is same to Seiko SLH series super heavy duty sewing equipment.
Click here for video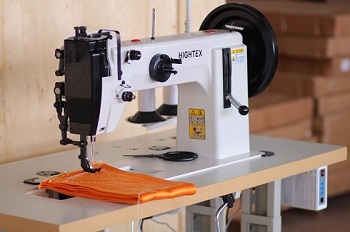 7273ECO Low cost heavy duty industrial sewing machine for webbing lifting slings
Extra heavy duty walking foot industrial sewing machine for heavy duty sewing for 2-5 ply Nylon, Polyester, or Polypropylene webbing with each of 3.5 mm. Using thick thread upto metric size #
8: V346, T-350, 1100dx3.
This cheap industrial webbing sling sewing machine
has the best sell to lifting slings manufacturers in India. Purchased by the leading manufacturer of lashing & lifting slings in Noida - India, as well as their oversea factory in Dubai. A manufacturer of lifting belts in Pune - India. A manufacture of Polyster lifting slings in Mumbai - India. A manufacturer of polyester webbing slings in Gujarat - India.
However, if you just need less 5 industrial sewing machines for your webbing products, we do not recommend this machine.
Click here for video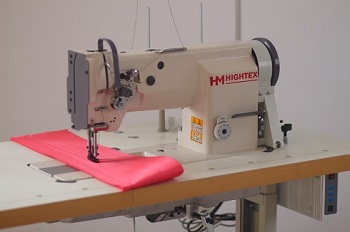 74400 Industrial walking foot sewing machine for heavy duty webbing straps
The machine is smooth running, durable, versatile and its robust construction includes: needle roller bearings for the arm & hook shaft etc., cog driven belt assemblies and more importantly an automatic oil lubrication system is fitted, which reduces wear & tear considerably
Note: this industrial sewing machine is only can stitch 9mm thick webbing slings (Nylon, Polyester ), with max. thick sewing thread metric size #10 (=T-270, V277, 840dx3).
Click here for DEMO video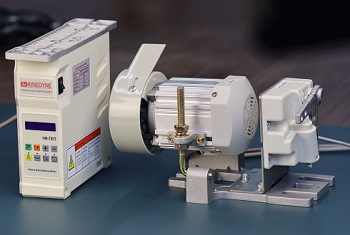 Kinedyne HM-750T Revolutionary new powerful and reliable energy saving servo motor for heavy duty webbing slings sewing machines

The powerful, slient and durable servo motor comes with electronic board for pneumatic presser foot lift, pneumatic reverse, needle cooler and automatic needle position, your productivity may increase substantially (20-40%). This high performance energy saving servo motor can save 60-80% electricity. Usually the cost of servo motor can be recovered within 2-3 years by saving money on electricity. However the advantage of time savings and labor cost saving will make the actual return on investment faster.