Title: Automatic safety harness webbing cutting machine(hot cutter)
Update Time 2019-04-24 02:34 Views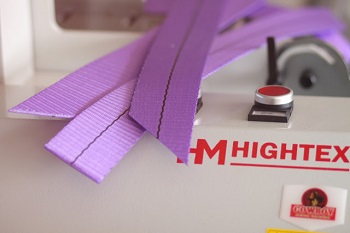 828C Professional automatic hot knife webbing cutting machine with rotating knife for straight and angle cutting (-45°/+45°)
Both angles (start and end) can be adjusted independently from 0-45 degrees, and the angles can be adjusted easily by typing each angle into a numeric display (the knife rotation is performed by a stepping motor). The temperature of heating blades can reach 600 Degree Celsius (°C) which can cut very thick synthetic webbing straps and slings made of Nylon, Polyester and Polypropylene (up to 16mm thickness).
Click here for video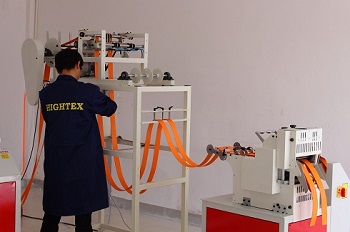 S828AF-200 Automatic tape feeding device
It is almost necessary to have automatic webbing feeding device if you put safety harness webbing in trolly, instead of reels.
This automatic tape feeding equipment can work for all HighTex hot knife webbing cutting machine, included 828, 828A, 828B and 828C.
Video for automatic feeding equipment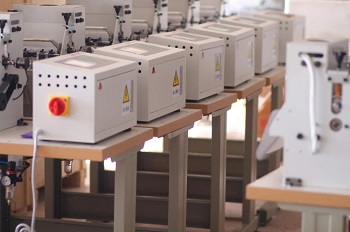 828 Inexpensive automatic cutting machine for heavy duty safety harness webbing
The lowest cost heavy duty automatic hot knife cutting machine for safety harness webbing available on the market today.
The temperature of hot blade is up to 600 C, can cut all types synthetic webbing straps made of Nylon, Polyester and Polypropylene.
Cut and seal the material in same time for simple future processing.
Click here for video
828BM-E300 Hot knife automatic webbing cutting machines
They feature an easy-to-adjust marking system that simultaneously adds up to six ink marks to the webbing straps that then becomes the reference for proper placement and sewing on lifting slings, cargo lashing strap and safety harness.
The machine automatically cuts the webbing strap and marks their position for subsequent sewing.
Click here for video