Title: 7243-37 Super long arm heavy duty union feed sewing machine
Update Time 2019-04-06 13:04 Views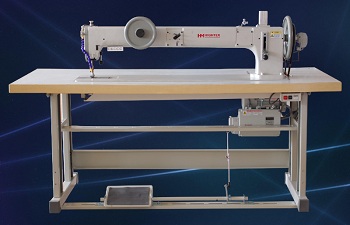 The sewing machine arm has been extended (complete casting, not a cut and piece extended arm) to give approximately 960mm clearance, which is very useful when sewing larger items, for example: parachutes, sails, tents, covers et.
Its powerful and steady feeding action enables you to sew multiple ply of heavy weight material with a true and even stitch.
The presser foot has an extra high lift and can go up to 23mm, allowing for a large range of extra heavy weight material or bulky items to be used.
A stitch length of up-to 11mm is possible (which in sewing machine terms, is big) and the machine has a reverse stitch lever as standard.
The special extra large shuttle hook and bobbin capacity reduces the number of bobbin changes and offer high efficiency in sewing products using extra thick thread up to metric size 7* (=V415, T-400, 1300dx3).
Click here for video 1
Click here for video 2