Title: 733-30 Super heavy duty long arm sewing machine
Update Time 2019-04-06 13:23 Views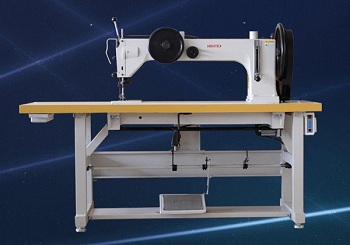 Long arm extra heavy duty lockstitch machine with large oscillating shuttle hook, alternating walking presser foot, for tents, sails, parachutes and covers.
This model in the HighTex range is one of the most heavy duty industrial sewing machines in production today.
The sewing machine head has a larger long arm internal working area of 760mm, to the right of needle, & higher under arm clearance.
The special extra large shuttle hook and bobbin capacity offers high efficiency in sewing products using extra thick thread and has a
thread rating up-to size #0 - #00.
The presser foot has an ultra high lift of up to 32mm, allowing for a large range of extra heavy weight material or bulky items to be used.
A stitch length of up-to 15mm is possible (which in sewing machine terms, is big) and the machine has a reverse stitch lever as standard.