Title: Leather sewing machine for Indian saddle makers
Update Time 2019-05-15 14:07 Views
Heavy duty industrial leather sewing machines and leather crafting tools for Indian saddle manufacturers and leather goods manufacturers
Because of the low labor cost, India is the largest growing market of industrial sewing machine, especially the garment sewing machine, everybody could see that. So Indian market is becoming the major goal of Chinese industrial sewing machine manufacturers!

For heavy duty leather industrial sewing machine, India could be big market, as thousands of leather saddlery manufacturers and leather goods manufacturers in India, for example Harness and Saddlery goods or the 'Horse riding and driving equipments' are being manufactured in Kanpur for more than 100 years. The growing business has encouraged Indian saddlery manufacturers to expand their presence in the international market through participation in international fairs held exclusively for the saddlery industry. The two most important ones, SPOGA and BETA in Germany and Britain, respectively, have created quite a stir within the saddlery business in Kanpur.
CowBoy is the best saddle and harness production equipment supplier in the world, we have full range of leather sewing machinery and leather crafting equipment for saddlery industry, for example:

OUTLAW Industrial grade hand stitcher leather sewing machine, which is the best leather stitching machine the beginner
CB3200 Low cost Heavy Leather Sewing Machine for Saddle and Harness
CB4500 The best sell Leather sewing machine for Harness and Saddle Makers
205-370AE The premium leather sewing machine for saddle makers and leatherworkers-- Sews leather and webbing better than any other machine built today
Leather crafting tools like 806 leather skiver and leather splitter, 809 leather paring machine, 8116 manual leather splitting machine, 8360 hand operated die click press, 8500 leather belts hole punching machine and 8700 leather belt embossing machine etc.
However we do not sell many machines to India, in past 15 years, we only retail some leather sewing machines to Indian manufacturers directly. The quality of our leather sewing machine is designed for USA and Europe, high quality means high cost and price. Indian leather market cannot accept high price industrial sewing machine. So we are still waiting for the growth of Indian market.
Hightex CB4500 Heavy duty saddlery sewing machine
The Cowboy CB4500 is our number one selling heavy duty saddlery sewing machine. The leather sewing machine features an extra large barrel style shuttle hook which is the same hook used in the Durkopp Adler 205-370 and Juki TSC-441. This leather stitcher features a compound feed design with triple feed. The presser foot lift of the machine is about 1 inch and the machine is capable of sewing most materials up to a maximum sewable thickness of 3/4"-7/8".
A full array of attachments are available for saddle maker, harness makers and leather holster makers.
Click here for video 1
Click here for video 2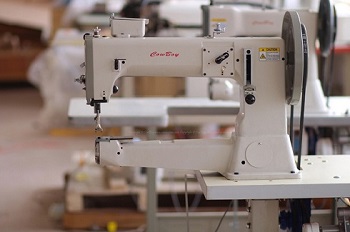 This heavy duty leather stitching machine has good sale in India, including the leather sofa manufacturer in Bangalore, India.Two saddlery manufacturers in Bangalore, India. As well as the leading manufacturer of lashing & lifting slings in Noida, India.
Hightex CB3200 Low cost leather sewing machine for saddle maker and leather craftsman

We are pleased to introduce the latest model in the cowboy sewing machines lineup --the HIghtex model CB-3200 compound feed walking foot saddle and harness stitcher. This machine is the lowest cost heavy duty compound feed saddle and harness stitcher offered in the market today.

Your advantages:
1. The lowest cost heavy duty leather stitcher;
2. Triple feed mechanism with walking foot, needle feed, and feed dog;
3. 5/8" inch presser foot lift;
4. Large Barrel shuttle hook for heavy leather and thick thread.

Click here for video

Click here for Gallery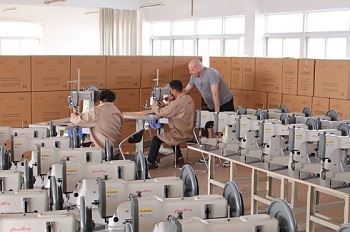 This cheap leather sewing machine purchased by some saddles manufacturers in Bangalore, India.
Hightex 205-370 premium leather sewing machine for saddle makers and leatherworkers

The great advantage of classHightex 205-370 becomes especially apparent when processing three-dimensional workpieces of heaviest materials: The free-arm construction allows an unhindered material handling. Due to the optimized sewing kinematics and the triple feed the robust and reliable machine always provides a first-class stitch pattern. The large barrel shuttle sews thick threads without any problems. Thus, the 205-370 is a specialist for the manufacture of sofas & armchair, shoes and leather goods, saddlery, upholstery and technical textiles.
All parts of this leather sewing machine are interchangeable with Durkopp Adler 205-370.

Click here for video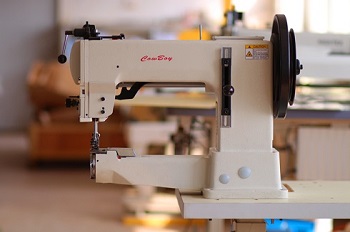 This best quality heavy duty leather sewing machine purchased by a producers of high end luxury sofas in Bangalore, India
335 Cylinder-bed sewing machine for industry and leather crafts:

Lockstitch, cylinder-bed leather sewing machine with unison feed. Designed for industry and leather crafts. General sewing and tape binding operations on footwear, bags and leather articles.

Click here for video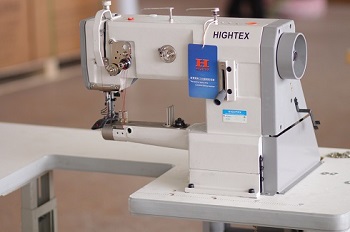 This leather binding sewing machine by a shoes manufacturer in Bangalore, India
CB6900 Best sewing machine for leather handbags and purses:

Medium to heavy duty cylinder bed compound feed leather sewing machine for handbags, shoes, belts, carpets, furniture upholstery and leather crafts. The newly developed mode of highly rigid rectangular feed guarantees outstanding feed performance. The ratio between the alternating vertical movements of the walking foot and presser foot remains unchanged even when the material thickness changes.

Click here for video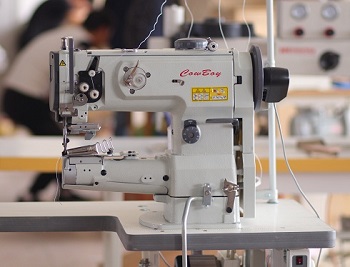 This leather bag sewing machine purchased by a bags manufacturer in Unnao - India, and a bag manufacturer in Noida, India.
8020 Industrial leather splitter

The 8020 is a game changer for the professional leather worker. No longer does the artist have to order several hides for a single project. Now, a single heavy hide can be ordered and split down to any thickness required. Cutting Area: 20"
Max Leather accepted: 16 oz or more
Minimum leather split: 4 oz
Types of leather: Veg Tan, Bridle, Latigo, any stiff leathers.

Click here for video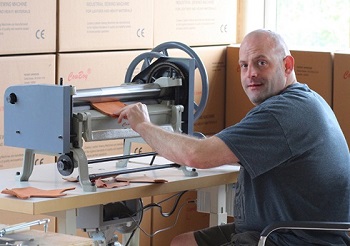 This leather splitting machine purchased by saddles manufacturers in Bangalore, India.
CowBoy OUTLAW Hand crank leather sewing machine for sheaths, holster and leather crafts
This affordable hand crank leather sewing machine is an economical alternative to heavy duty motor industrial sewing machines for gun holsters making, knife sheaths, leather bags, leather belts and manufacturers of harnesses. Designed to provide years of dependable trouble free operation, the OUTLAW is destined to become a mainstay in your arsenal of leather working tools.
It is also the best leather sewing machine for the beginners.
Click here for video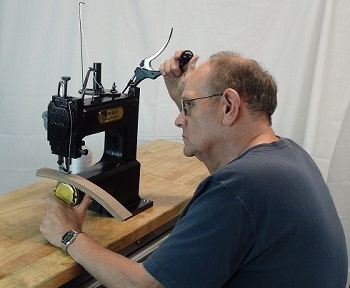 This portable leather stitching machine purchased by an Indian saddlery in Bangalore, India.
Meanwhile we keep looking for some professional Indian sewing machine dealers or distributors who know saddlery trade well. We expect to work together for Indian leather saddlery.
If you are interested in becoming CowBoy heavy duty leather sewing machine dealer or distributor, please contact us at