Title: Heavy duty industrial sewing machines sale in Indonesia
Update Time 2020-01-03 13:21 Views
Heavy duty industrial sewing machines in Indonesia
As leading manufacturer of heavy duty industrial sewing machines in China, we are looking for professional industrial sewing machine dealer in Indonesia, to distribute our leather sewing machine (for saddlery and leather crafts), heavy duty automatic pattern sewing machine (for slings, harness and ropes), upholstery sewing machine (for thick thread decorative stitching or ornamental seams on leather sofas), as well leather crafting tools.

Before finding Indonesia industrial sewing machine dealer, we have sold these heavy duty industrial sewing machines to manufacturers directly in Indonesia.
71008S Heavy duty automatic pattern sewing machine for slings and harness:
The first generation of extra heavy duty automatic pattern sewing machine and bar tacking machine was born in 2006 - flexible for the manufacture of slings, belts, harnesses and ropes made of Nylon and Polyester, for industries such as cargo lifting and lashing, fire and rescue, safety & protection, arborist, automotive, aviation, marine and military.
Click here for video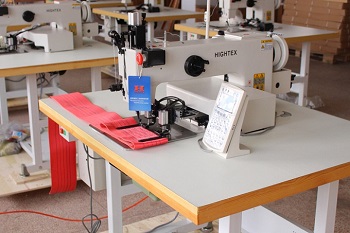 This heavy duty automatic harness sewing machine is purchased by the manufacturer of webbing safety harness in Yogyakarta, Indonesia.

7273CNC-5020 Heavy duty ratchet lashing straps sewing machine with extended sewing area:
Can easily sew 2-4 ply synthetic webbing slings (3.5mm of each) together, using extra strong sewing thread up to metric size #7 (=V415, T-400, 1300dx3). This CNC industrial sewing machine is custom made for a heavy duty ratchet lashing strap manufacturer in Bekasi, Indonesia. Their cargo webbing is much thicker and higher density, so need a extra heavy duty ratchet straps sewing machine.
204-370 Heavy duty lashing strap and webbing slings sewing machine:
Extra heavy duty triple transportation (walking foot and compound feed) lock stitch sewing machine with large Barrel shuttle hook, ideal for stitching 2-5 ply Nylon or Polyester slings in the production of heavy duty lifting slings, cargo lashing straps, safety harness and other synthetic webbing products. Same to Durkopp Adler 204-370.
Click here for video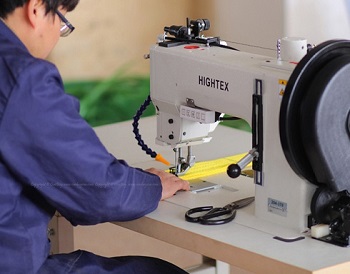 This webbing sewing machine ordered by a manufacturer of ratchet lashing and rigging belts in Jakarta, Indonesia.
7273ECO heavy duty cheap industrial sewing machine for lifting slings and lashing straps:
Specialized industrial sewing equipment for stitching heavy weight materials, such as lifting slings, cargo lashing straps and safety harness, Ratchet Tie Down straps, safety harness for work at height, Tatami mats, military equipment, backpacks, crane slings, lanyards, spanzet, safety belts and sails corner patch.
Click here for video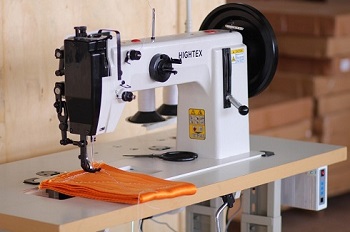 This low cost heavy duty sewing machine purchased by an importer and manufacturer of industrial safety, lifting product & webbing sling in Jakarta, Indonesia.
9518-30 Long arm zigzag sail sewing machine for spinnakers and windsurf sail:
Designed for light to medium weight spinnakers, windsurf sail and up to heavy sails, using thread sizes V46, V69 and V92 and capable of stitching materials up to 7 mm. With 4 cams for straight stitch, 1-step, 2-step and 3-step zigzag, cover all demands of modern sail making industry.
Click here for video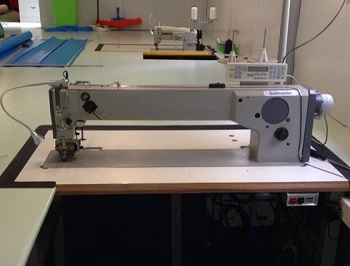 This spinnakers sewing machine purchased by a windsurfing sails and kites maker in Bali, Indonesia.
CowBoy OUTLAW Manual leather sewing machine for sheaths, holster and leather crafts
This affordable hand crank leather sewing machine is an economical alternative to heavy duty motor industrial sewing machines for gun holsters making, knife sheaths, leather bags, leather belts and manufacturers of harnesses. Designed to provide years of dependable trouble free operation, the OUTLAW is destined to become a mainstay in your arsenal of leather working tools.
It is also the best leather sewing machine for the beginners.
Click here for video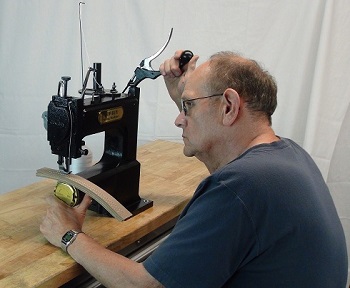 Request for more information!
Note: HIGHTEX series heavy duty industrial sewing machines come with Form-E Certificate of Origin that allow you to save Import duty & taxes:

The China - ASEAN Free Trade Certificate of Origin (FORM E): currently applies to exports of Indonesia, Thailand, Malaysia, Vietnam, the Philippines, Singapore, Brunei, Cambodia, Myanmar, Laos and other countries and comply with the relevant provisions of the product, as long as issued by the China - ASEAN free Trade Area of preferential origin confirmation letter (FORM E), exports of goods to the 10 countries of the importing country can enjoy preferential tariff treatment, the average tax rate of up to 5%.