Title: New Heavy Duty Automatic Programmable Sewing Machine
Update Time 2023-09-19 09:56 Views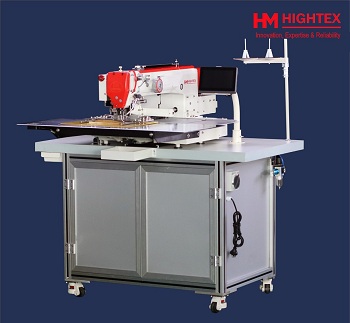 ASM911 New automatic programmable sewing machine with Full-rotary 3-fold Capacity Hook for safety harness, lashing strap and other heavy-weight materials
The major advantages:
1. The machine is equipped as standard with a full-rotary 3-fold capacity hook. This 3 times bobbin capacity hook reduces the frequency of the bobbin thread replacement, enhancing efficiency in sewing with thick thread (up to metric size #10 ,T-270, V277, 840dx3).
2. Great Needle Penetration Powerful motor (750W) outputs large amounts of torque even at slow speeds so that strong needle penetration force can be obtained.
3. The thread trimmer offers outstanding reliability and durability. The ideal application for the device is the sewing of height safety harness and cargo lashing belts with thick synthetic threads.
4. The hand pulley is installed on this side of the machine head. This allows the operator to visually check the needle entry and adjust hook timing with ease.
5. With the handy controls on the operation panel, the user can easily select language (15 different languages), sewing patterns, change sewing speed, set the bobbin thread counter, and store cycle sewing programs in memory.
6. The quick exchange system for sewing clamps allows an overlaping working method. While sewing one clamp you can prepare a second clamp and easily change the clamps after the machine has finished the sewing cycle.
7. The needle cooler blows air to the needle, thereby preventing thread breakage caused by hot needle.
8. The integrated thread break sensor stops the sewing cycle when a breakage is detected to minimize waste.
9. Barcode reader for tooling recognition & changing pattern number by the barcode, provides high efficiency & avoid operator's mistake with pattern number.
10. Most affordable function/price ratios to match your budget. With this automatic sewing equipment it is possible for small factories/production companies to make the first step to automated production for inexpensive price.
11. Additionally, we have 20 years of experience providing turn-key programmable sewing machine systems to a global market. Vast experience in serving customers from the productions of cargo lashing straps, safety harnesses and lifting slings.
Applications:
Cargo webbing/tie-down webbing: heavy duty ratchet straps, lashing straps and tie down straps, load restraint equipment, cargo restraint ratchet strap; Safety harness webbing: safety harnesses, full body harness, fall protection harnesses, seat belts, screamers (shock absorbing sling), backpack straps, rescue belts, safety lanyard, slackline webbing; Webbing for lifting and hoisting (nylon or polyester): lifting slings, crane slings, rigging slings, tow strap, recovery strap; Military webbing: parachute harness, military straps, army vest, military equipment & tactical gear
Max. Speed: 2000 RPM
Hook Type: 3 times large rotary hook
Sewing Area: 30 x 60mm (ASM911-1360), 250 x160mm (ASM911-2516) , 350 x 200mm (ASM911-3520)
Needle System: DPX17 #14 to #25
Max. Thread size: #10 (=T-270, V277, 840dx3)
Max. sewing thickness: 10mm thick cargo webbing and 8mm high density harness webbing
Stitch Length: 0.1~12.7mm
Work Holder Lift:14mm
NeedleBar Stroke: 45mm
Presser Foot Lift: 20mm
Drive Motor: Limi-Servo (750 Watts)
Air pressure: 0.6 MPa
Power: 200-240 Volt 1 or 3 Phase
Thread trimmer system: Horizontal engagement with fixed knife and movable knife
Packing size:
ASM911-1360: 1240x980x1330 MM, G.W:230KGS
ASM911-2516: 1240x1110x1330 MM, G.W: 251 KGS
ASM911-3520: 1240x1180x1330 MM, G.W: 280KGS
If you have any questions or concerns, please feel free to contact us at
info@automatic-sewing.com
, thank you!