Title: Why buy HighTex heavy duty programmable sewing machine
Update Time 2019-04-17 13:47 Views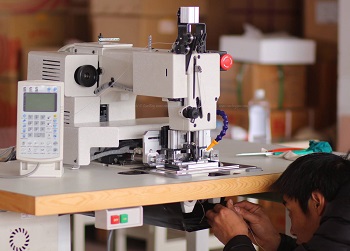 Thank you for your interest on a Hightex Programmable Automatic Pattern Sewing Machine.
Hightex is one of the leading manufacturers and innovators in the field of computerized automatic programmable, having sold over 2000 sets of such machines to the world market over the last 15 years.
Because machines of this type are so highly specialized, you will find in your research that there are virtually no companies offering programmable that have service centers established in all of the countries to which they sell. Even big names like Mitsubishi and Durkopp Adler do not have factory service centers in all parts of the world for programmable machines. So at the current time we only have one oversea service center in United States.
However, we have in place a very well established customer service program that will insure your machine can be serviced with minimal downtime. Please note the following points below:
1. We have a full compliment of technicians, engineers, and programmers that understand all aspects of the electronic, computer, and mechanical aspects of our programmable. These techs have over 10 years combined experience in servicing these machines. There are not many problems that we cannot solve either over the phone in person to person conversation, or by email or teleconference. In addition, you can send photos or videos to us to direct with problems on the machine, and we can post videos on how to perform different functions and service the machines online for your particular questions.
2. With each machine we sell, we offer a very comprehensive spare parts package that includes all of the commonly replaced parts for these machines. This spare parts package is worth about $3000.00 retail to the purchaser. This spare parts package will allow you to service, maintain, and repair the machine for years to come.
3. With each machine we sell, we ask our customers to send samples, both sewn and unsewn, of the material they plan to use in the machine. We then test sew the machine over and over again to insure the machine will work flawlessly in production situations. This insures that you get a properly tested, adjusted, and ready to run solution out of the crate.
Hope these points above allow for some additional clarification and increase your faith in our products.
Hightex Sewing Machines has been a big influence in the world of sewing machine automation and we plan to continue that effort for many years to come.
Please feel free to contact us with any additional questions you may have.