Title: 204-102MD Leather sofa decorative stitch sewing machine
Update Time 2023-01-27 16:57 Views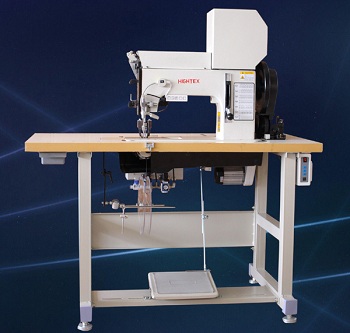 The furniture and automotive upholstery industry faces constantly changing fashion trends. Hightex 204-102MD twin needle decorative stitching machine making your ideas a reality. The special roller presser foot can easily sewing corners of leather sofas & armchair, recliner chairs, leather car seat covers. 7 different cams for up to 14 different decorative stitches, including T-stitch, Box-stitch etc.
Extra large Barrel shuttle hook and bobbin capacity offers high efficiency even sewing with extra thick thread (V364 or 1100dx3 or braided thread up to 1.4mm); The custom-made compensating roller presser foot is particular for stitching corners, hard butted/overlapped seams.
Equipped with revolutionary new powerful
servo motor for heavy duty industrial sewing machine
(very powerful, silent & reliable energy saving servo motor).
Click here for video 1
Click here for video 2