Programmable sewing machine
Title: 72600PLK High seed heavy duty webbing pattern sewing machine
Update Time 2019-04-04 13:15 Views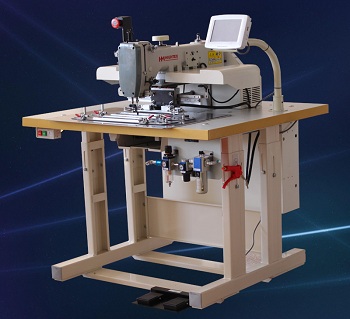 Many cargo straps and safety harness manufacturers are using JUKI and BROTHER programmable electronic pattern sewer, these sewing machines are not good for real heavy webbing products, and very difficult to process thick sewing thread, which is almost necessary for safety seam.
Large Barrel Shuttle Hook type pattern sewing machines (such as Mitsubishi PLK-E2008H) can stitch heaviest material with thickest thread, but the sewing speed is slow. Thus productivity becomes the main concern of lifting slings, lashing straps and safety harness manufacturers.
72600PLK is the practical sewing solution for the highest possible productivity and quality. It is capable of reinforcement stitching 2-4 ply synthetic webbing slings with each of 3mm, using thick thread (Metric size #8, V346, T-350, 840dx4). Compare to others Barrel shuttle type heavy duty pattern tacking machines, the sewing speed of 72600PLK is up to 1000rpm, can bring high efficiency to the sewing production of webbing straps.
Click here for video 1
Click here for video 2