Title: How to choose heavy duty automatic rope sewing machine
Update Time 2019-04-24 02:27 Views
Heavy duty Bar-tacking can be widely seen reinforcing Kernmantle ropes, static climbing ropes, dynamic climbing ropes, rope lanyards, slings & cords, safety harnesses and military gear, with strong and uniform stitch. Because most of the rope end bar tacking is used on is critical to survival, it is important to find the right bar tacking sewing equipment that can create extra safety and durability on the seam.
Today extremely heavy weight materials and thick sewing threads are used in the production of braided and twisted synthetic ropes made by Nylon, Polypropylene, Polyethylene and Polyester, for arborist rope, climbing/caving ropes, boat rope & marine rope, rescue ropes, rigging ropes, custom cordage and braided rope.
Over the years Hightex developed full range of computerized ropes sewing machines that optimize bar tacking to be consistent and of high strength and quality. Sewn terminations on ropes and cords are stronger than knots because rope-on-rope friction is eliminated along with the bending of the fibers.
All HIGHTEX heavy duty automatic pattern sewing machines and bar tacking machines will be thoroughly tested and gone over by Mingyuan Industrial Sewing Application Center.

Our field engineers configure these sewing automation equipment properly for customer sewing requirements. This includes building all the necessary clamping, jigging and fixturing to accomplish the sewing task, testing and checking all pneumatic, electrical, and computer systems for proper operation, programming the machine with all patterns supplied by the customers, and then testing the machine on samples that match exact customer specifications.

These operations save the end user many thousands of dollars in extra expense, eliminating the need for outsourcing the work required to get the machine in operating condition.
Click here for video 1

Click here for video 2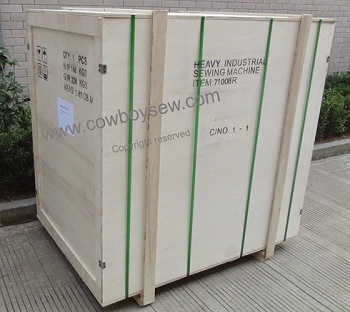 In Part (III), we will guide you to select super heavy duty programmable bar tacking sewing machines to make sewn eye terminations at end of ropes and cordage, with or without thimbles.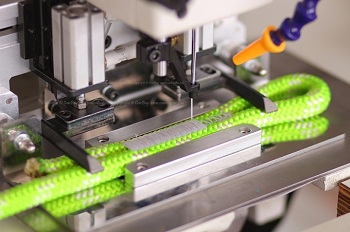 1, Diameter of ropes and cords
The diameter of the rope you have selected will affect not only the minimum breaking strength, but also abrasion resistance, handling characteristics, weight. In productions of normal static climbing ropes and dynamic climbing ropes, we recommend below sewing capacity:
71008R: 6 to 16mm suggest sewing speed: 250 rpm
71008RX: 6 to 18mm suggest sewing speed: 150 rpm
72008R: 6 to 16mm suggest sewing speed: 250 rpm
7273PLK/R: 6 to 20mm suggest sewing speed: 400 rpm
733PLC/R: 8 to 28mm suggest sewing speed: 150 rpm
(Note: above recommendation base on optimal stitch formation.)
71008R is the first generation of rope end bar tacking machine with maximum flexibility, easily interchange the production of fiber slings and ropes by changing clamps. 71008RX is with enhance needle penetration power for stitching heavier and high density rope. 72008R is designed for long bar tacking seam when make sewn eye termination. 7273PLK/R is the second generation of rope end bar tacking sewing machine–highly specialized electronic control systems, robust construction and sophisticated device for perfect seam quality & maximum productivity, recommend for professional twisted and braided rope manufacturers. 733PLC/R is the challenger for ultimate ropes in industrial and offshore applications.
2, Thread size and needle size
Seam strength is greatly dependent on thread strength (thread type and size), and thread size must match up the needle size. When select thread type and size for your rope sewing production, the needle size should be taken into consideration.
High performance ropes with sewn terminations must be bar-tacked with proper needle size and thread size. If you stitch small Kernmantle ropes with big needle, the oversize needle holes will damage rope fiber itself. And if you stitch big Kernmantle ropes (have high rope tensile strength) with small needle, you have to increase stitch count (need longer production time) for obtaining the specific strength and safety.
Needle system of models 71008R/71008RX/72008R/7273PLK/R: 794 or DY x 3 or 7 x 3
Needle size 160/24 for sewing thread metric size 15, V207, T-210, 630dx3
Needle size 180/25 for sewing thread metric size 10, V277, T-270, 840dx3
Needle size 230/26 for sewing thread metric size 8, V346, T-350, 1100dx3
Needle size 250/27 for sewing thread metric size 7, V415, T-400, 1300dx3
Needle system for 733PLC/R: Schmetz 1000 or Schmetz 1000H or Schmetz 1000Q
Needle size 280 for sewing thread metric size 5, V554, T-600, 1300dx4
Needle size 300 for sewing thread metric size 4, V693, T-700, 2000dx3
3, Seam length
The seam length will definitely effect on the breaking strength of fiber ropes. If you are to join two ropes with long seam, an extended clamp may be required, also you design an unsewn area at the middle for saving bobbin thread and production time, if the rope tensile strength exceeds specific standard.
71008R max seam length: 130mm
72008R max seam length: 200mm
7273PLK/R max seam length: 120mm
733PLC/R max seam length: 250mm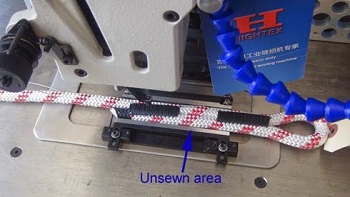 4, Seam width (zigzag width)
To make sure high seam strength, the third bar tacking stitch usually go over the center of both 2 Kernmantle ropes, for example: the seam width of 16mm Kernmantle ropes should be 17mm-19mm. So the zigzag width of bar tacking machine should be considered.
71008R max zigzag width: 20mm
72008R max zigzag width: 20mm
7273PLK/R max zigzag width: 18mm
733PLC/R max zigzag width: 30mm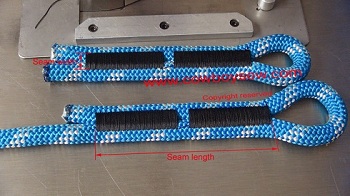 5, Stiffness of fiber ropes
For some extra rigidity & cut resistance synthetic fiber ropes (like high density fiberglass rope), if you are not sure the needle penetration force of bar tack sewing machine, please send some rope samples to our industrial sewing application center for testing, before order.
The challenging sewing task for climbing ropes is high stitch density (number of stitches per inch). For the ultimate in strength and safety, climbing and security ropes manufacturers usually go over the bar tacking for 3 times, and with 2-3 reverse stitches (back tacking) at beginning and end of seam, causing the stitch to have an x-like form. Thus the extremely high stitch density will greatly harden the ropes, especially when do the third bar tacking. For most climbing ropes makers who have been using Hightex heavy duty programmable bar tacking sewing machines, we suggest longer stitch length (to less stitch density) on the first and second bar tacking, then make the third bar tacking with tight stitch length (for superior strength, durability, excellent stitch pattern and uniformly tight stitch formation).
6. Prototype of Sewn Terminations (Sewn eyes)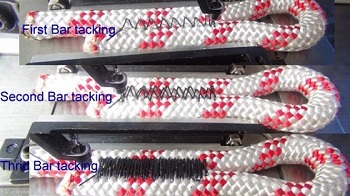 When writing climbing and security rope specifications, you should not neglect specifying the proper number of stitches per inch that should be used in your ropes and cordage. Why? Because the number of stitches per inch can have a direct influence on the seam strength and stitch appearance.
Obviously, the seam strength is dependent on a number of factors including: 1) thread strength (thread type and size); 2)stitch count (number of stitches per inch); 3)weakening material from piercing with needle (type & weight of the Fabric); 4)pattern of sewing; 5) stitch balance (thread tensioning).
Generally, the more stitches per inch, the greater the seam strength, but it takes longer time in production. Furthermore, there are rare cases where adding stitches per inch can actually damage the rope fibers so that the seam is weakened, however, this only happens on specific rope fibers that can be damaged by excessive needle penetrations.
If you are not sure about the stitch count, thread size, needle size and sewing pattern, you can send us:
1) All types of ropes and cordage you are manufacturing;
2) With specific strength of each type rope and cordage;
3) Different size of threads you are using (testing with same quality of thread)
We will:
1) sew ropes with different thread size, and check the breaking strength
2) We will work out your "Prototypes" & make it to your specifications.
3) We will help you design best sewing solution for your rope sewing production (Avoid wasting time, material and capacity).


7, Spare parts package
At Hightex, we realize how critical it is to keep your automation running. Let's face it, equipment breaks and machines malfunction. The key objective in a manufacturing environment is to minimize unplanned downtime. This package provides the necessary parts for the first 6-7 years of operation.
You can purchase the spare parts package together with machine, then no need to order any parts during this period.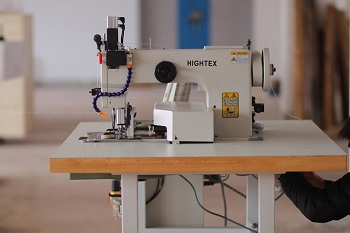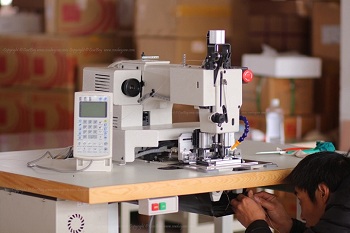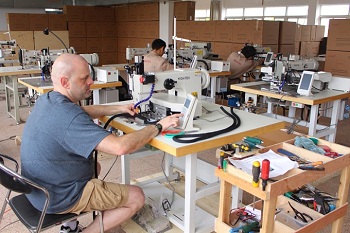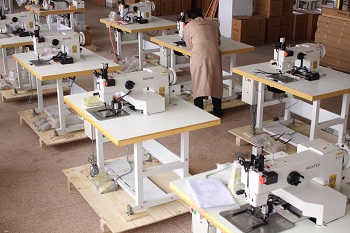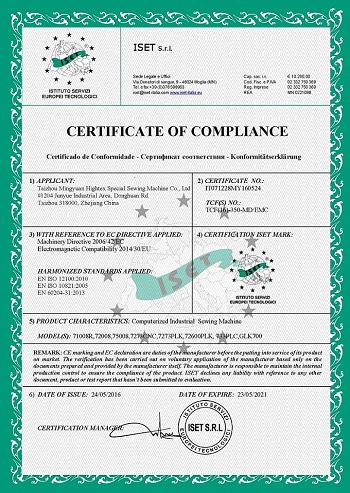 Why does Cowboy and Hightex require samples from the customer when setting up a computerized automatic sewing machine?

We normally ask our customers to send sewn samples of the material that they want to use in the machine, as well as plenty of raw unsewn materials for testing, and also the thread that they would like to use for the sewn samples we run in the machine for the following reasons:

1. Certain factors will effect the sewing quality, for example stiffness of rope, rope size, thickness of nylon webbing, nylon webbing woven density, thread size, thread type, harness hardware / hooks and construction of rope lanyards. With sample material from the customer, we can custom make a sewing frame / clamp which will aggressively hold down the sample, and set the right thread tensions and sewing speed, as well as other calibration adjustments which will enable the machine to perform well in a production level environment.

2. We then test sew the machine over and over again to insure the machine will work flawlessly in production situations. This insures that you get a properly tested, adjusted, and ready to run solution out of the crate.

3. We will pre-program the machines according to the customers sewn sample and make a prototype of the customers production sample, so the customer can start production immediately when the machine is received.
If any additional question or concern, please write to info@cowboysew.com